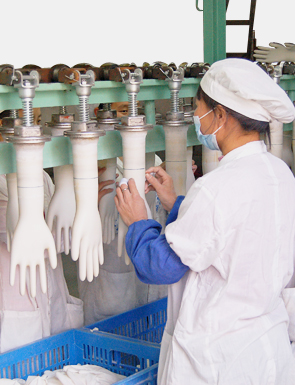 Our company is the predecessor of the Guangzhou Hongying rubber products Co., Ltd., founded in 1993, is a company with the right to import and export business. Is a professional processing, production of disposable medical examination gloves (disposable medical rubber examination gloves) production enterprises, was founded in 1998, the company headquarters is located in the Guangzhou central business district (CBD), the Pearl River Metro, the address of the factory is located in Baiyun District of Zhongluotan Liang Tian Guan Li Qu Liang Sha Lu No. 3209 (the original address is the address of the registered: Baiyun District of Guangzhou city Liang Tian Zhen Chen Dong Cun Liang Road No. 757), covers an area of about 15000 square meters, the registered capital of 1000000 yuan, with latex gloves production line 4, a total of about 250 employees, annual output of about 300000000 only disposable rubber examination gloves. The products of our company since 1998, mainly exported to Europe and America, Africa etc..
Our company depends on the advanced production technology and strict quality control, rubber examination gloves produced white appearance, smooth, soft, fine powder, no smell, hand type design for artificial theory, wear not only convenient and sanitary, and touch sensitive, wide application of medical, beauty, food, electronics, instruments and chemical experiment industry, the product won the praise and trust of customers at home and abroad. The products have repeatedly won the bidding in the tender in the national Ministry of health.
We sincerely thanks for your consistent support and sincere cooperation of all customers, the company's a im is "quality, integrity hospitality". We will continue to excellent quality and perfect after sale service, as in the past to meet customer's needs.